Immer diese langen Produktnamen. ಠ_ಠa
Ich habe Zuhause noch einige koreanische Kosmetikprodukte rumliegen (hauptsächlich Pflege und BB Creams) und wollte sie nach und nach hier auf dem Blog vorstellen. Rechts in der Menüleiste könnt ihr entnehmen, welche Reviews noch auf euch zukommen werden.
Es sei hier angemerkt, dass ich die Produkte über einen längeren Zeitraum gestet habe... (シ_ _)シ
Heute stelle ich das Peeling Gel "Oxygen Micro Essence Peeling" aus der Super Aqua Pflegeserie von Missha vor.
Beziehen kann man das Produkt auf der Webseite von
Missha
, wo auch der Preis von 22.99$ angegeben ist (zur Zeit mit 30% Rabatt). Ich habe es mir aus China mitbringen lassen.
Hello hello! Today I wanted to share my review of the Missha Oxygen Micro Essence Peeling (what along name!).
So what's so special about it? It doesn't contain these typical tiny grains that helps exfoliating your skin like other exfoliating products.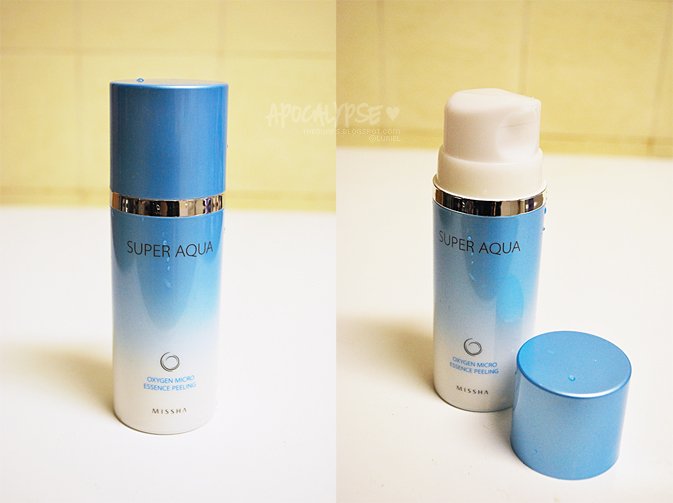 100g/ 4.5oz
12 Monate haltbar nach dem Öffnen
Made in Korea
Ingredients
Water, Glycerin, PEG-8, Alcohol Denat., Ethyl Perfluoroisobutyl Ether, Butylene Glycol, Ethyl, Perfluorobutyl Ether, Arginine, Trehalose, Cocamidopropyl Betaine, Cellulose, Carica Papaya (Papaya) Fruit Extract, Sodium Hyaluronate, Glycereth-26, Triticum Vulgare (Wheat) Seed Extract, Linaria Japonica Extract, Nelumbo Nucifera Flower Extract, Elaeagnus Pungens Leaf Extract, Onsen-Sui, Citrus Paradisi (Grapefruit) Fruit Extract, Beta-Glucan, Saccharide Isomerate, Tartaric Acid, Malic Acid, Glycolic Acid, Citric Acid, Lactic Acid, PCA, Pyruvic Acid, Carbomer, PEG-60 Hydrogenated Castor Oil, Methylparaben, Chlorphenesin, Fragrance
Es handelt sich dabei um ein Peeling ohne Peelingkörner.
Der
Hersteller
beschreibt das Produkt folgendermassen//
How the
manufacturer
describes this product
:
"1. Minute bubbles that reacts to our body temperature and skin type cleanses the dead skin cells/impurities deep in the pores
2. Promotes skin turnover and blood circulation that helps skin to regain its good conditions
3. Contains over 30% of water soluble essences such as Sodium Hyaluronic Acid that soothes and vitalizes the skin
4. Can experience effect like the professional peeling programs if used constantly."
Geruch//
Scent
:
Angenehmer, sauberer, floraler Duft. Nicht penetrant für meine Nase. (✿❛◡❛)ノ
It's actually quite nice; smells like flowers to me and has that "clean" scent as if you just did the laundry. lol ⊙ω⊙ 
Verpackung//
Packaging
:
Das Gel kommt in einem stabilen blauen Plastikbehälter mit Pumpspender daher. Die Kappe sitzt fest. Macht insgesamt einen hochwertigen Eindruck.
This exfoliator gel is packed in a sturdy blue bottle with a pump.
Anwendung//
How to Use
:
Ich muss ja zugeben, es hat einige Zeit gedauert, bis ich kapiert habe wie man dieses Peeling richtig benutzt. Wenn ich mich recht erinnere, war auf der Kartonverpackung keine Anleitung (auf English) und auch auf dem Behälter selbst ist keine vorzufinden. Es sei hier mal gesagt, dass es auf angefeuchteter Haut nicht funktioniert. ლ(´ڡ`ლ)
Das Gesicht wasche ich trotzdem vor jeder Anwendung, trockne es aber ab, bevor ich das Peeling benutze.
Ich nehme immer zwei bis drei Pumpstösse für das gesamte Gesicht. Das Produkt wird dabei auf das trockene Gesicht aufgetragen und in kreisenden Bewegungen einmassiert (Augen- und Mundpartie wie gewohnt aussparen). Eine dünne Schicht reicht vollkommen. Das Gel ist in diesem Zustand durchsichtig.
Anschliessend wartet man 3-5Minuten, damit es einwirken kann. In der Zeit wandelt sich das Gel in ganz feine weisse Bläschen. Das kann eine ganz kitzlige Prozedur sein... (ಥ‿ಥ )~ Aber bitte auf keinen Fall anfassen! Wenn sich die Bläschen gebildet haben, kann die Haut nun gepeelt werden!
Dafür massiert man einfach sanft die Haut (dabei wird auch die Blutzirkulation stimuliert), die Bläschen werden "fest" und sie rubbeln die abgestorbenen Hautschüppchen runter. Danach mit lauwarmem Wasser abwaschen.
Es wird empfohlen 1-2 Mal in der Woche damit zu peelen. Ich benutze es meistens 1 Mal pro Woche.
TBH it took me a while to figure out how to use this product correctly since there are no instructions (in english) on the packaging. First: Use it only on dry skin! It doesn't work on damp skin.
I normally pump 2-3 times for the desired amount. Just apply a decent layer onto your skin, shouldn't be too thick, a thin layer is perfectly enough.
Then wait about 3-5 minutes till the gel consistency turns into tiny little bubbles! (which could tickle a little (ಥ‿ಥ ))
Now when your face is covered in bubbles, you can start massaging the skin. The bubbles will rub off all the dirt and dead skin (as you can see in the second picture! Can you spot the dirt? Yuck! Σ(゚Д゚)). The massage will stimulate the blood circulation in your face as well.
When you're done, just rinse it off with lukewarm water.
It's recommended to use 1-2 a week.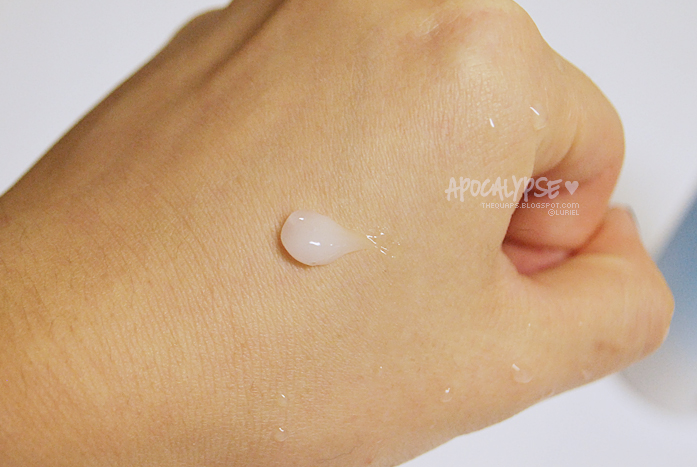 My thoughts:
Ich bin sehr begeistert von diesem Produkt. Nach der Benutzung fühlt sich die Haut deutlich frischer und weich wie ein Babypopo an. Meine Haut ist auch nicht dermassen gereizt und gerötet wie nach der Anwendung von Peelingkörnern. Ausserdem trocknet sie nicht so stark aus; kein Spannungsgefühl zu vernehmen. (ノ◕ヮ◕)ノ*:・゚✧
Als Manko könnte man die Einwirkungszeit betrachten. Wer es bei der Pflegeroutine eher eilig hat, der wird eventuell keine Geduld mit diesem Produkt haben.
Dieses Peeling ist ausgesprochen hautschonend und ich würde es auf jeden Fall nochmals nachkaufen.
I'm so happy with this product! After using it my skin feels a lot smoother and so refreshed. I can feel how it nourishes the skin also thanks to the massage. This product leaves the skin moisturized and it's not aggressive at all. When I use peelings with grains my skin is always very sensitive afterwards... So the Missha exfoliator is pretty gentle.
But as you can see, you have to wait a few minutes so it can react with your skin, maybe that's for some of you a CON when you're in a hurry or don't want to spend too much time on this in general.
Overall I love this product and I'd repurchase it for sure.
Rating:
✿✿✿✿❀