Der Duft meiner Begierde in dreifacher Ausführung.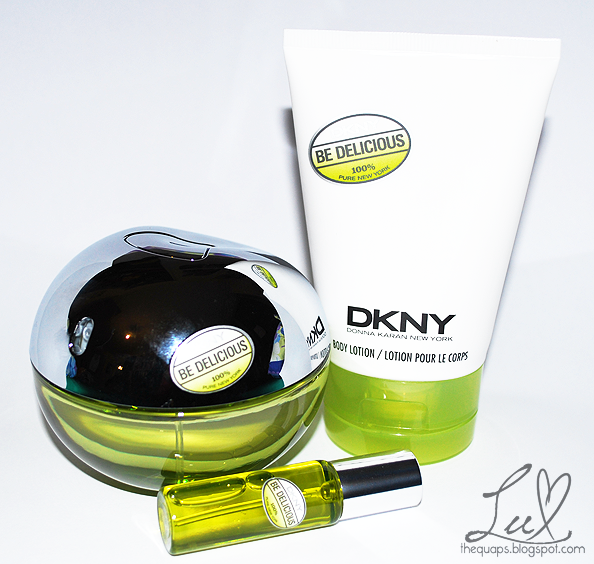 Be Delicious Perfume by Donna Karan NY
Big Size 100ml - Body Lotion 100ml - Travel Size 7ml
Apfel für die Nase.
Ich find's toll, dass eine Mini Version im Set dabei ist - der Originalsize Apfel ist ganz schön schwer.
"Designed by Maurice Roucel, its top notes include grapefruit, cucumber, magnolia with middle notes of apple, tuberose, white muguet, rose, violet and base notes of white amber and wood."
Ezin Articles
Immer wenn ich daran schnupper, erinnert mich der Duft total an Sommer, Reisen und Big Cities. Der Flakon ist dem New Yorker Big Apple nachempfunden, da passt meine Assoziation ja wie die Faust auf's Auge. xD
Das Parfüm hab ich im Mai '09 das erste Mal erschnuppert, als ich auf der Deutschlandreise war mit meinen Tanten und Onkel. Wir waren an dem Tag gerade in der Outletstadt Metzingen und die haben sich in einem Douglas ausgetobt und dementsprechend ziemlich viele Samples bekommen, die dann an mich weiter gereicht wurden lol. Und darunter war eben ein Pröbchen von Be Delicious.
Es hat mir damals schon sooo gefallen, aber weil ich von meiner Tante zur selben Zeit ein Eau de Toilette von Anna Sui bekam, ging ich auch nicht weiter auf die Suche~ °_°
Auf jeden Fall erinnert mich dieses Parfüm jetzt immer an diese Zeit in Deutschland- aber auch sehr an Shanghai. °3°"
Der Duft versprüht dank Gurke und Apfel eine milde Frische und ich bilde mir ein, den Duft der Magnolie auch gut wahrnehmen zu können (die anderen beinhalteten Düfte kenn ich in ihrer Reinform eh nicht; außer Grapefruit und Rose natürlich lol).
Eine Süße ist vorhanden, aber gut dosiert und sehr gedämpft; empfinde ich nicht als aufdringlich, wie bei anderen Parfüms. Ich würd mal sagen, dass es ein sommerlicher Duft ist mit erquickender Wirkung. :D
Insgesamt ist er zart und auf besondere Art Aufmerksamkeit erregend und das mag ich sehr. Perfekt für den Alltag. :3~
Oooh, Äpfelchen, bleib mir so lange erhalten wie nur möglich...!