Hello Hello!
It's been a while but the requests of my first art giveaway are done now. o(≧▽≦)o
Sorry to have kept you guys waiting! But I had a lot to do recently. (╯︵╰,)
For now please enjoy the artworks, I really hope you like them!
♥
To the three winners: You'll receive an email with a higher resolution of your picture in case you want to print it or what ever. (∩_∩)
Mädels, ihr kriegt von mir noch eine E-Mail mit einer höheren Auflösung eures Bildes, falls ihr vorhabt es auszudrucken oder sonstiges. :3
To
Miu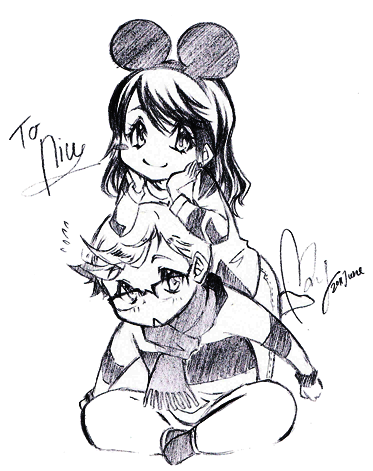 To
Ice Pandora
Btw Ice Pandora, you've changed your Gaia avatar a few times so I just took
this one
as reference. xD I hope that's ok for you!
It was really fun to draw those characters! Can't wait for the next round. (≧ω≦)