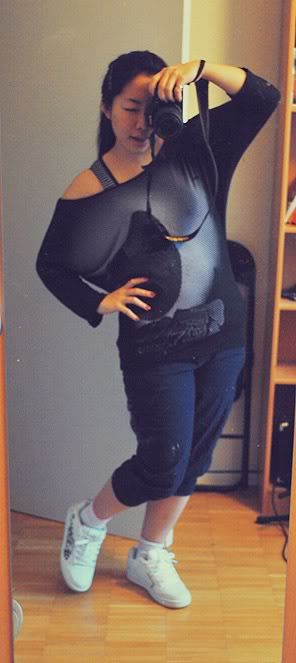 Ahhh... Ich fühl mich wie gerädert. X_X"
Dieses Semester kann ich endlich wieder vom UniSport-Angebot profitieren, weil meine präferierten Sportkurse sich dieses Semester nicht mit meinen Lehrveranstaltungen überschneiden♥.
Deswegen hab ich mich dieses Mal wieder für Streetdance und zusätzlich Volleyball Training+Spiel eingetragen.
This semester I'm finally able to do sport again! I decided to take part in streetdance (well we call it streetdance but it's not that break dance kind of dance... Hip Hop you know? xD I'm not sure if you call it streetdance in english lol) and volleyball.
Der gestrige Streetdancekurs war ok, anstrengend, aber zum Durchhalten kein Problem (Rumpfbeugen war noch nie so entspannend... nicht). Ich find's schade, dass Debbie nicht mehr den Kurs leitet, sie war so nett. ;_; Und total positiv und motivierend. Okay, die Neue ist zwar auch voll positiv und motivierend, allerdings hatte Debbie das besondere Etwas. xD
Dancing was okay! As expected quite exhausting but I enjoyed it. I was a little bit sad though that Debbie wasn't the course instructor anymore because her personality was great and she's a really sweet girl.
Auf jeden Fall wurden wir richtig gedrillt :'D~ und heute tut mir einfach mein ganzer Körper weh. xD
Ein Ziehen hab ich gestern Abend schon gespürt und mein Freund meinte, ich sollte heute besser nicht ins Volleyball Training... Auf ihn gehört habe ich nicht; ich bin fitter wenn ich Muskelkater hab.
Nach der ersten Vorlesung bin ich dann schnell zur Turnhalle geradelt.
Was hab ich mich gefreut als ich die ganzen blau-gelben Mikasa Volleybälle da rumliegen sah! ♥♥♥ Ich konnt's nicht erwarten endlich mit dem Training anzufangen (obwohl ich Albtraumvorstellungen hatte, dass wir solche Mordsübungen à la Mila Superstar machen mussten xD wtf). Diejenigen die schon da waren durften erst mal laufen bis alle eingetrudelt sind~ Irgendwann hat der Kursleiter dann die restlichen Bälle gebracht und wir durften uns eeeendlich einspielen! Ich hab mich übrigens für den (Wieder-)Einsteigerkurs angemeldet; ich liebe Volleyball und hab das in den Sportstunden am Gymnasium sehr gerne gespielt, aber ich würde mich nicht als Fortgeschrittene einstufen..
Es hat solchen Spaß gemacht! Und ich denke, ich war gut. :D Der Kursleiter hat mir auch Komplimente gemacht, das macht mich als neue Teilnehmerin natürlich ziemlich stolz, und hat auch gefragt bei wem ich Volleyball spielen gelernt hatte, weil meine Fähigkeiten ziemlich gut sind (ich hab einen Namen genannt, aber ich war mir da nicht mehr sicher, ob ich bei ihr überhaupt Volleyball gelernt hatte... Aber die Namen der anderen Sportlehrer zu meiner gymnasial Zeit hab ich irgendwie vergessen ... °_°" Ouwh, dieses Gedächtnis...).
Well and today I went to the volleyball training. It was my first time after 3 years!! I could have cried tears of joy when I saw the blue/yellow/white Mikasa Volleyballs lying around ♥♥♥. We started with a little warm up - just jogging a few rounds before we started playing.
Btw I joined the course for beginners. I love Volleyball and I've played a lot in high school but I don't think I'm good enough to join the advanced course. Maybe I'm more a intermediate.
The instructor made some compliments and said that my skills are pretty good (that's good for my self confidence lol). I'm so proud of myself!
Jetzt hab ich zwei geschwollene Unterarme und Muskelkater en masse. Und bin todmüde. Aber ich fühl mich gut und freu mich schon sehr auf die nächsten Stunden! *_* Btw, die anderen Kursteilnehmer waren voll nett und deutlich aufgeschlossener als die vom Tanz. o-o Für solche Teamspiele ist's halt wichtig, dass man miteinander gut auskommt, sonst kriegt man Bälle ins Gesicht gepfeffert hahaha.
Before dinner I noticed that both forearms are swollen. Lol. And my whole body's aching right now. But I'm fine with that and I can't wait for next wednesday and friday! ♥
Morgen geht's zu der Aki. Ich hoffe es regnet nicht schon wieder...
Have a nice week end!