Hachja, wie sehr ich Dolls doch liebe. |D Sowas für Zwischendurch ist immer erheiternd. Gefunden bei
Lily
und sofort nachgemacht!
Dolls, dolls, dolls, i love them. Found this wonderful pin up dollmaker on Lily's blog and wanted to do it too!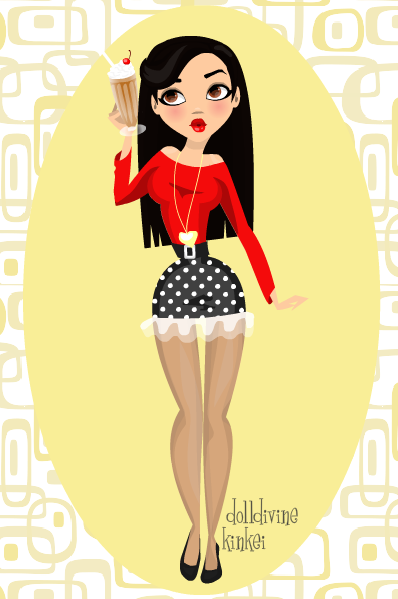 Das Outfit existiert auch in echt. :'D
Nur weniger rüschig (und nicht so kurz rofl) und das Herz durch einen Totenkopf ersetzen.
Likey like - nur ist's mir im Moment noch zu kalt dieses Outfit wieder auszuführen (und für Uni wärs doch etwas gewagt haha).
Wieso ist's überhaupt schon wieder so kalt? D¦
Wer sich auch ein PinUp Mini-Me zusammenbasteln möchte, kann das
hier
tun. :3
This outfit exists in real ... just without quillings and imagine the heart is replaced by a skull.
Bin zur Zeit mit Zeichnen beschäftigt.
Es ist ziemlich lange her seit ich das letzte Mal bis tief in die Nacht gezeichnet habe, zum Teil ist das total nervenaufreibend ("aah ich krieg die Pose nich hiiin", "dieser Gesichtsausdruck sieht debil aus D8"), gleichzeitig aber auch sehr befreiend.
Schönes Wochenende! ♥ Hoffentlich wird's weniger windig ...